HUAWEI Scale 3 Smart Fat BMI Body Scale - Wi-Fi & Bluetooth Connection | 11 Body Indicators
Price

RM149.00

Brand
Huawei
Size (L x W x H)
12 cm x 12 cm x 6 cm
Availability
In Stock

Huawei Smart Body Fat Scale 3

Quantity
Description
Highlight
↵Original Malaysia 1 Year Warranty
Product details of HUAWEI Scale 3 Smart Fat BMI Body Scale - Wi-Fi & Bluetooth Connection | 11 Body Indicators
·【11 Body Indicators】Comprehensive understandingof your physical conditions with 11 body composition analysis.
·【HUAWEI TruFit】Capable of measuring humanbody composition indicators such as fat and skeletal muscle, based onparameters such as human biological impedance, while integrating large-scaledata verification with AI technology.
·【Wi-Fi & Bluetooth Connection】BothWi-Fi and Bluetooth to experience more convenience. Once Connected with Wi-Fi,you can step on the scale without opening the app. Based on historical data, itcan intelligently identify family members. All the record will be automaticallyuploaded to the cloud and sent to related accounts, so you can view it on yourphone whenevre and wherever you want.
·【Skeletal Muscle】Use the skeletal muscle massto determine the skeletal muscle health.
·【Premium Minimalist Appearance】Finelypolished glass panel and jade-like carvings, endowing the scale with a craftedand elegant look.
·【Considerate Design】The 300 mm x 300 mm temperedglass panel is firm, stable, and comfortable to stand on. 3.5 mm short scalefeet, can help prevent overturning, and the silicone rubber anti-skid pad iswear-resistant.
·【Guest Mode】The measurement data can beshared, but will not be stored. It disappears as soon as you leave the scale.
·Product description:
·HUAWEI Scale 3 Smart BMI Body Fat Scale, Wi-Fi& Bluetooth Connection, 11 Body Indicators, HUAWEI TruFit, Skeletal MuscleDetection, Body Fat Rate Detection, Body Composition Analysis Reports, GuestMode, Support Multiple Users, 1.57 kg, 300 x 300 mm.
·*Actual product features and specifications(including but not limited to appearance, colour, and size), as well as actualdisplay contents (including but not limited to backgrounds, interface, andicons) may vary by country. Please consult the point of sale for furtherinformation.
·**All performance data in the foregoing pagesare theoretical values obtained by Huawei internal laboratories through testscarried out under particular conditions. For more information on the specifictesting conditions, refer to the aforementioned product details. Actualperformance may vary owing to differences in individual product configuration,software versions, application conditions, and environmental factors. All datais subject to actual usage.
·***Huawei makes every effort at the time ofpublication to ensure the accuracy of product information it provides. Due tosubsequent changes involving product batches, production and supply factors, itmay be necessary for Huawei to make changes and adjustments to text and imagesso that they match the performance, specifications, indexes, and components ofthe actual product. Product information is subject to such changes andadjustments without notice.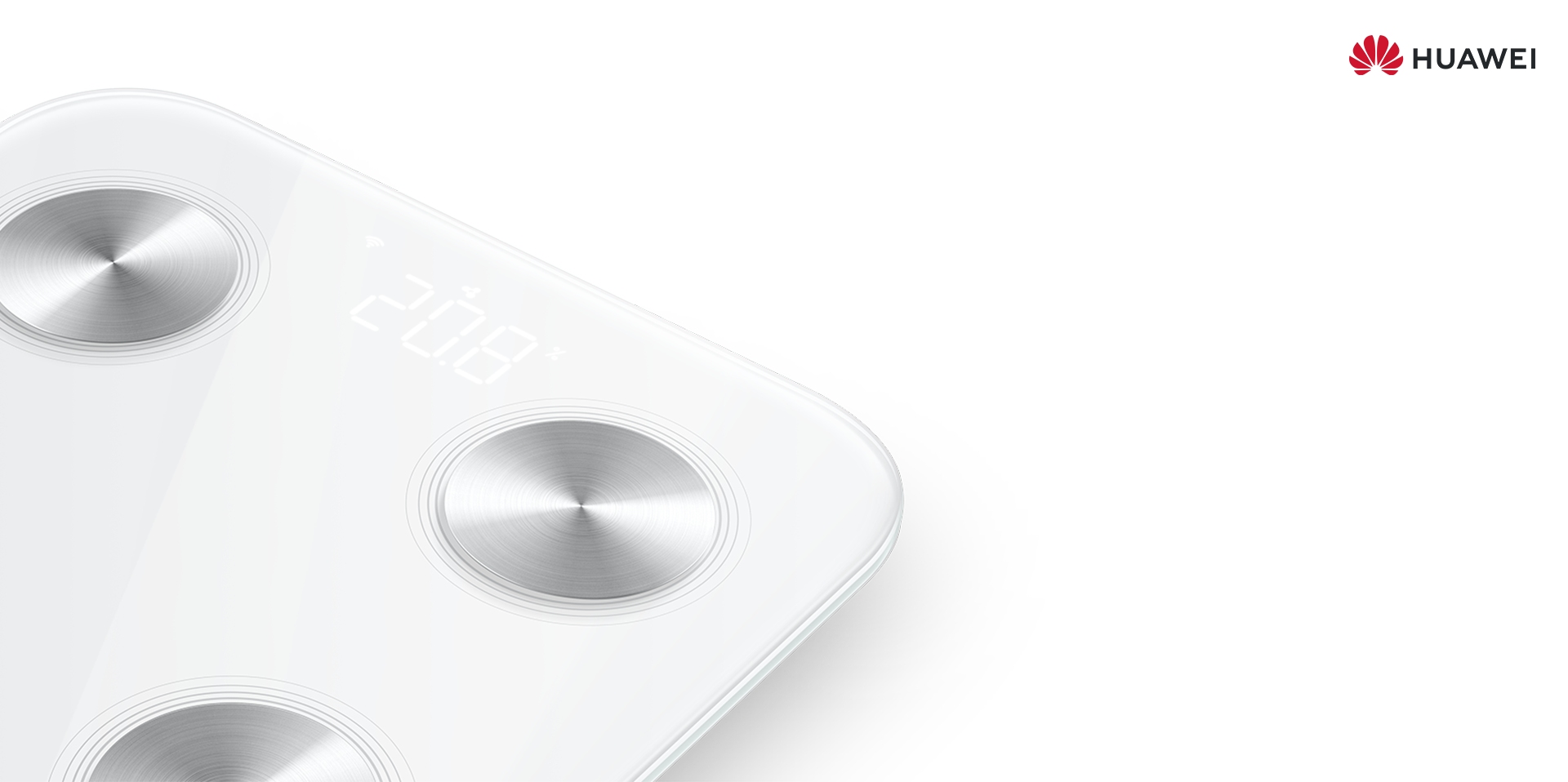 Know Yourself in More Detail
With HUAWEI Scale 3, you can get comprehensive understanding of your physical conditions with the 11 body indicators1. With more details shown, more changes are possible.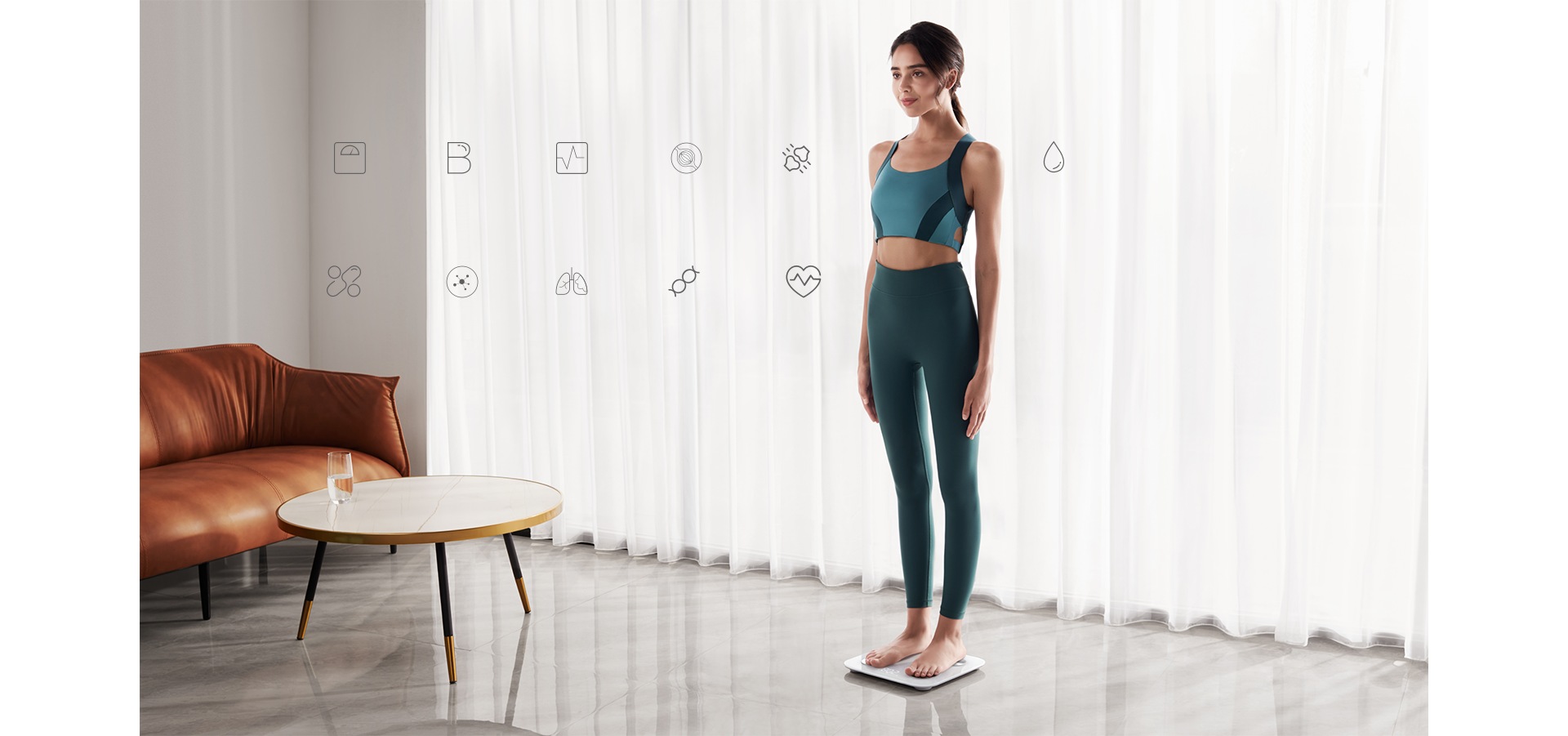 Weight
BMI
Body Fat Rate
Fat-free Mass
Skeletal Muscle
Mass
Body Water
Percentage
Protein
Bone Mineral
Content
Visceral Fat
Level
Basal Metabolic
Rate
Heart Rate
Losing Weight is Different from Getting Slim
Under the same weight, fat is about 3 times the size of muscle. That's why people with a higher body fat rate look bigger. Meanwhile, low skeletal muscle rate makes it difficult to lose weight as well. Keep track of your body fat rate and receive skeletal muscle assessments with the HUAWEI Scale 3. Losing weight can be professional too.

About 20% Body Fat Rate
About 35% Body Fat Rate
About 15% Body Fat Rate
About 35% Body Fat Rate
Scientific Guidance for Accurate Results
With HUAWEI TruFit™, a body composition model co-developed by Hefei Institutes of Physical Science, Chinese Academy of Sciences and Huawei, every measurement is scientifically guided. Big data and AI technology are able to bring you accurate information for a healthier body and lifestyle.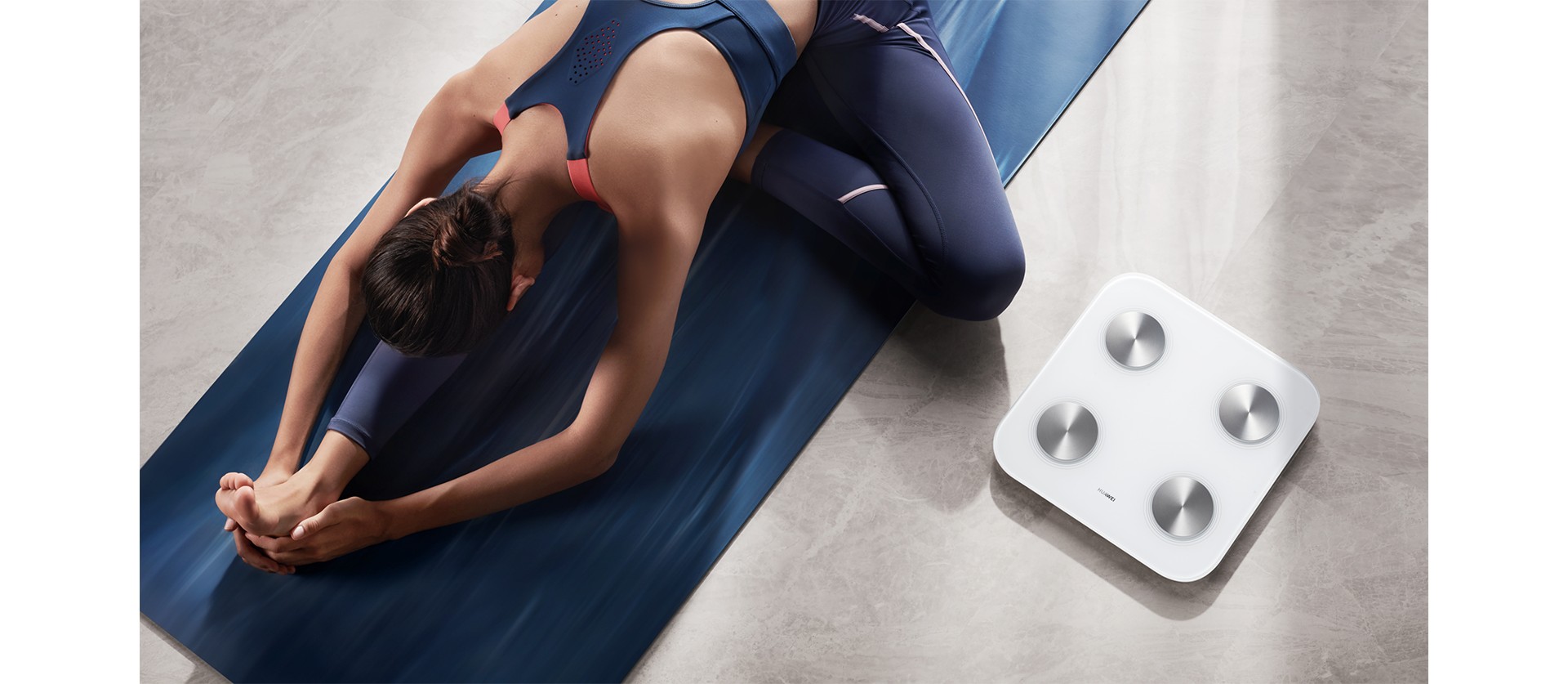 Detailed Body Composition Analysis
Leveraging Huawei Health app2, a detailed body composition analysis will be generated for your convenience. Based on the scientific analysis, the app also provides you guidance to help you gain better results.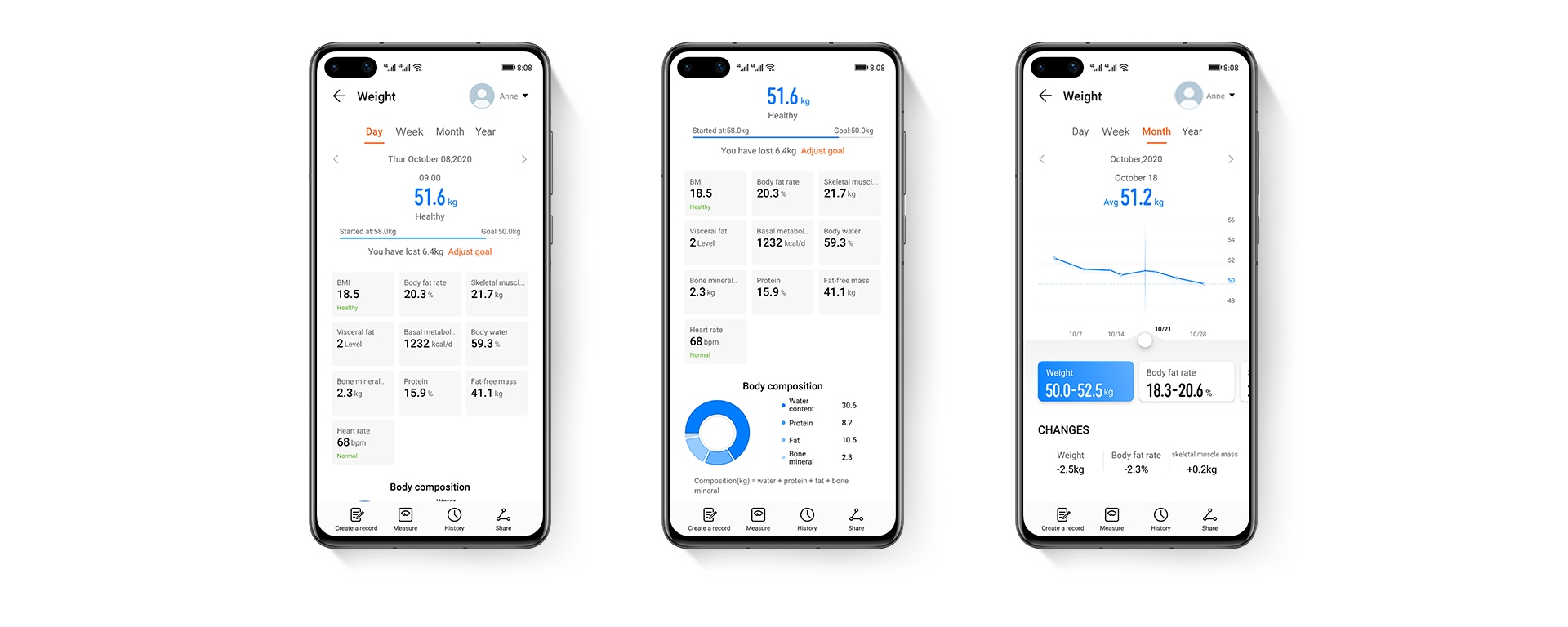 Track Your Workout Journey
HUAWEI Scale 3 helps you track every step towards fitness3. The refreshed record keeps you updated about your workout effect. You can adjust your workout mode and customize fat-burning plan accordingly.

Dual Connections Make it Much Easier
Connect HUAWEI Scale 3 with both Wi-Fi4 and Bluetooth to experience more convenience. Once connected with WiFi, you can step on the scale without opening the app. Based on historical data, it can intelligently identify family members. All the record will be automatically uploaded to the cloud and sent to related accounts5, so you can view it on your phone whenever and wherever you want.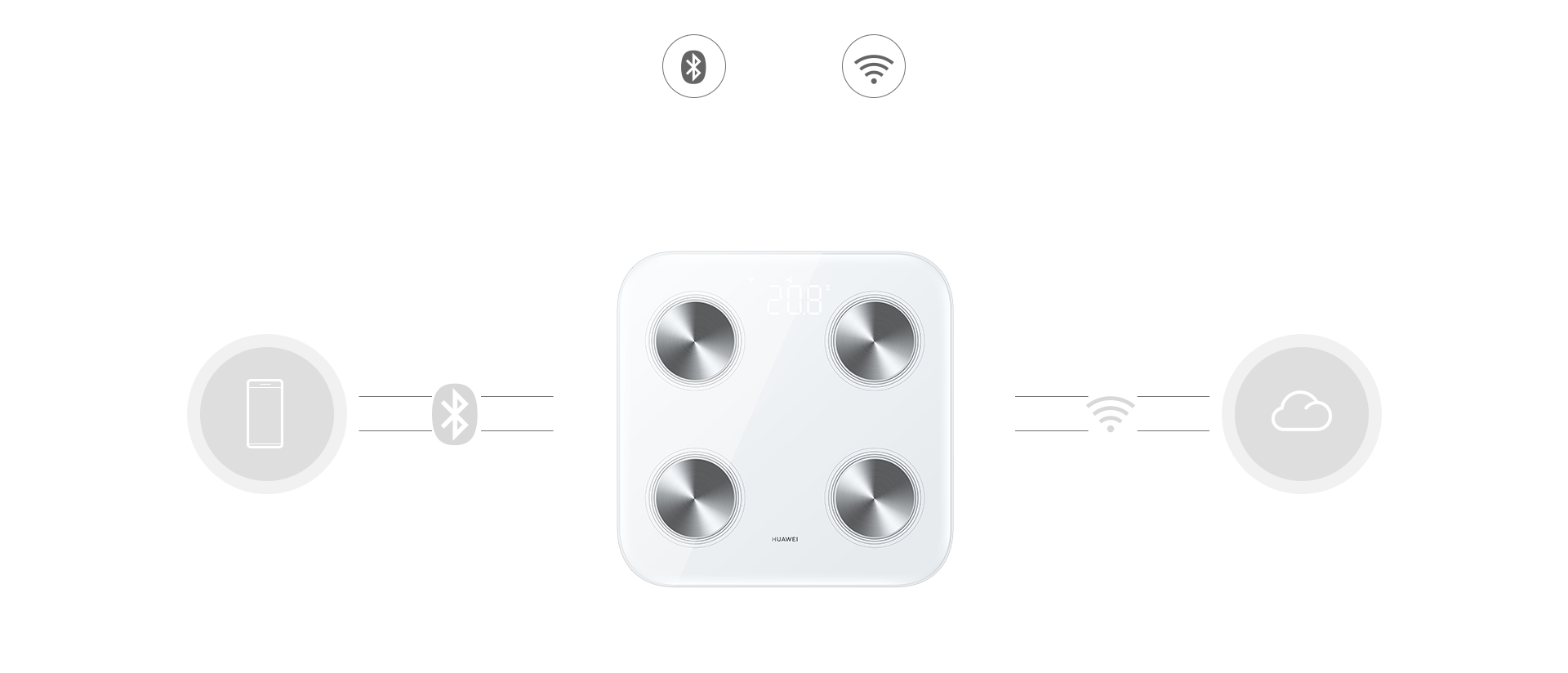 Bluetooth Connection
Wi-Fi Connection
A Host Needs Guest Mode
Your scale can be shared with your guest too. Open Huawei Health app, put in your guest information and the scale will be ready to go. Guest mode also protects your guests' data which will be deleted after the measurement.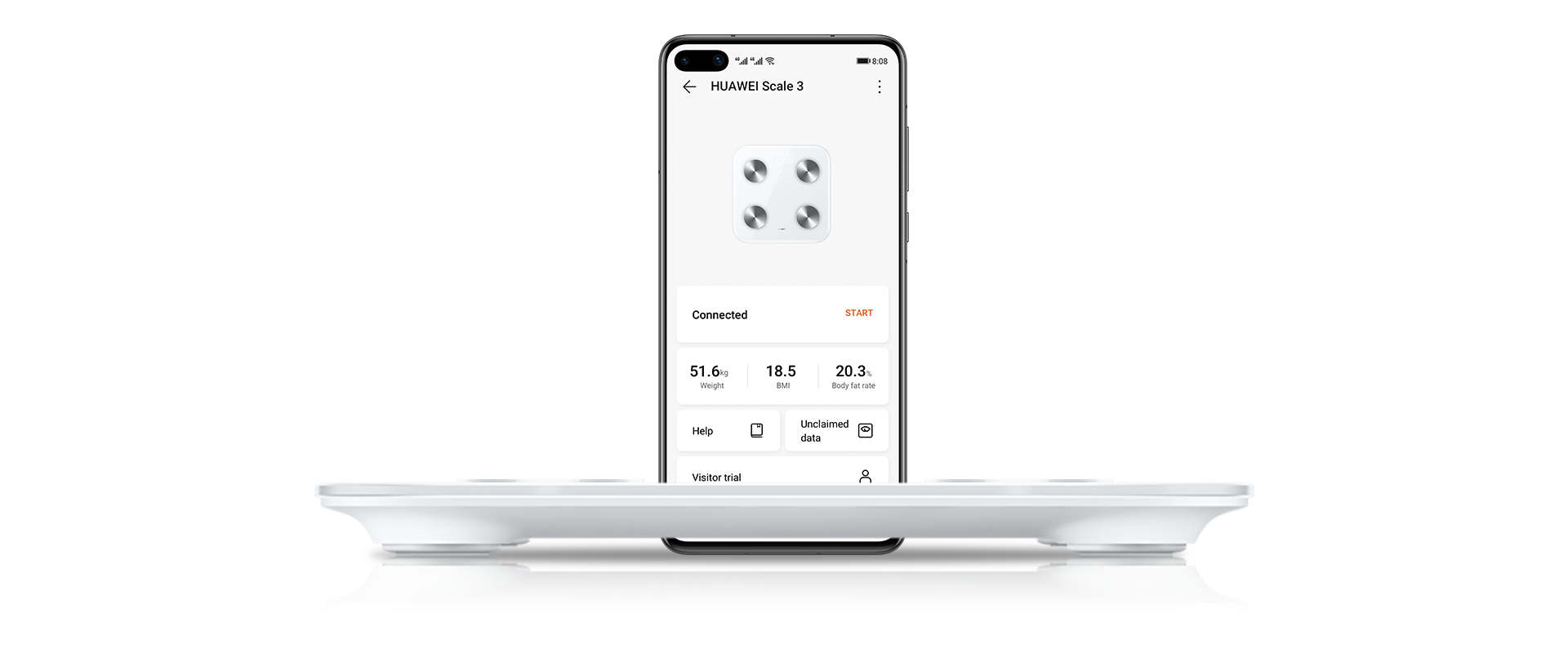 Detailed Design, Practical Experience
With tempered glass panel and pure white appearance, HUAWEI Scale 3 gives you a clean detailed design. Thousands of tests have made the scale panel layout suitable for different age groups6, and the 3.5mm low scale feet and silicone rubber non-slip pads also allow you to measure steadily at any time.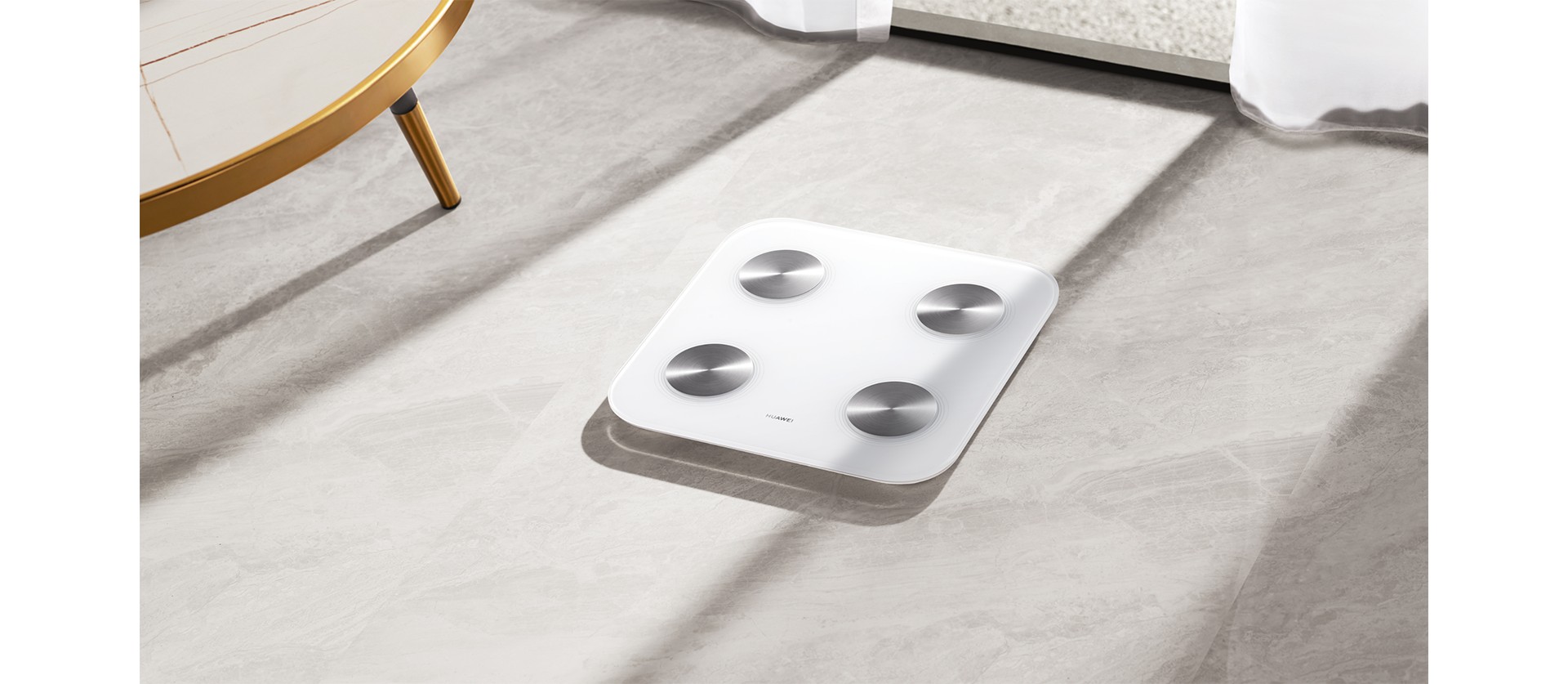 Huawei Quality Always Puts You First
HUAWEI Scale 3 is strictly tested throughout the whole production process, only to bring you a safer, reliable and superior user experience.

Salt spray test
35℃, NaCl, 24 h
Temperature shock
-25℃ to +70℃, 48 h
Controlled drop test
at room temperature
12 cm, 10 times, marble surface,
drop from the front
Short drop
4 edges + 4 corners, 10 cm,
100 times, marble surface
Steel ball drop
70 cm, 1040 g
High and low
temperature storage
-25℃/70℃, 24 h
High and low
operating temperature
5℃/40℃, 24 h
Weighing range is from 2.5 kg to 150 kg. Only supports weight and heart rate measurement for teenagers under the age of 18 and the elders over 65 due to their special physique.
*It is recommended that pregnant women and infants always have on footwear when using the device and use it for weight measurement purposes only. People with medical implants (e.g. pacemakers, cochlear implants etc.) should NOT under any circumstances use the device.
*Elderly people, patients with fever, and people who work in fitness or sports have large errors in body composition indicators due to their special physique. The only reliable information is weight.
*The scale is a non-medical device and is designed neither for medical use nor diagnosing, treating, curing or preventing any disease. All data and measurements should be used for personal reference only.
The heart rate is resting heart rate.

Huawei Health app supports Android 5.0 and above, iOS 9.0 and above systems.

The figure is only for illustration, the curve is derived from historical measurement data and the actual effect is subject to the app interface. *The data in the figure is only for illustration due to the differences between individuals.

The Wi-Fi support protocol specification: 802.11 b/g/n.

Each scale can be bound to 10 HUAWEI IDs. The auto-recognition is an ideal state and it does not rule out that some users with similar constitutions cannot be identified.

The data comes from HUAWEI lab.
Reviews (0)
view all
back
What's in the box
Smart scale x 1
User guide x 1